i know, another entry.  but this one has pictures and they're so much fun, aren't they? 
in our small little orchard here at Bodenseehof we have cherry trees and apple trees.  the cherry trees have become the center of our lives recently and really, our source of entertainment.  you can't really blame us, can you?  after all, they're so beautiful!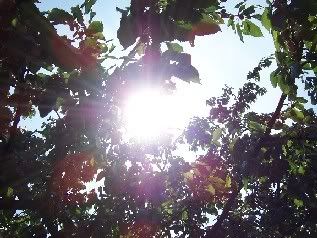 after spending many days of climbing trees and picking them
or in my case, having people climb trees and give me cherries,
we decided to make something of our fruit!
yesterday morning we sat on our steps and pitted bucket after bucket of cherries.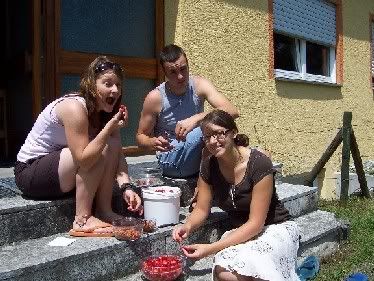 want some cherries?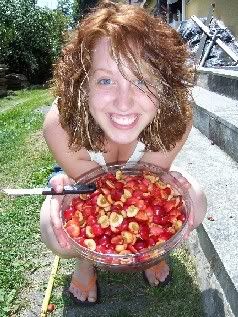 after that step was finished we went over to their house
and started to make pie after pie.  first, we mixed the fruit all up.
she started to talk on the phone and kept us entertained with the one sided conversation we overheard.
i ran out of counter space as i was rowling out the crust, so evelyn happily stood by the cherry bowl holding my extra crust (and trying a few of the cherries).
i tried my hardest to make the pies look pretty, although it was nothing like what my mumsie does with a pie.
we had a limited number of pie plates and too many pies to make, so we tried to cool a pie off quickly so we could remove it by using a fan and my blowing on it.
after they were done baking we decided to go on a picnic.  i like walking through Fischbach looking like this.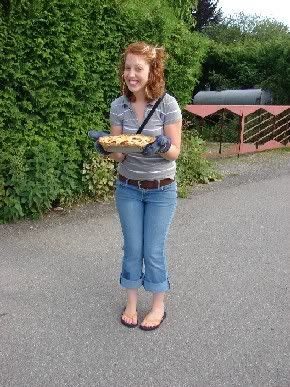 and everyone else walking.
and our lovely picnic.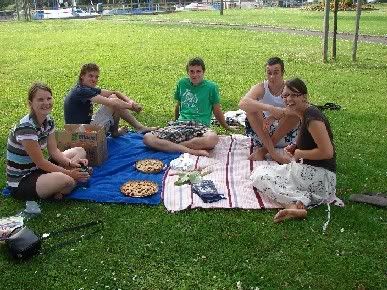 and afterwards we watched a movie and ate more pie.  and that was my day off.