i lasted two whole days.  two whole days of fruits, vegetables, and today a whole wheat tortilla with lentils and brown rice.  but when i arrived back home to a small tray of cookies with the words "To Louissa, From Lisa" written on them, i felt conflicted to the very core of my being.  should i eat them?  i couldn't let them just sit there, but i could hardly give them away to other family members.  they were my cookies!  i decided that exceptions must be made and this seemed like an opportune moment for just that.
and here is the tale of the cookie eating:
one evening i felt a wee bit special.  someone heard i was craving cookies, made some, saved a few for me, and dropped them off at my house!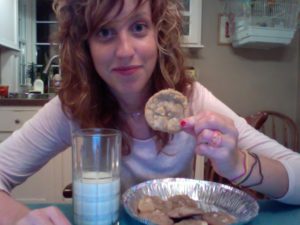 the only proper way to consume a cookie is with a glass of milk for dunking and i made sure i had a big one.
all this made me happy!  white flour, refined sugar, and chocolate!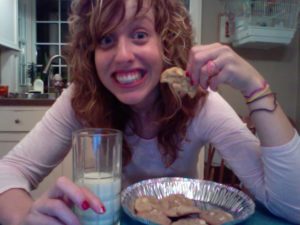 unfortunately, this doesn't end altogether that well.  i quickly learned that feasting on too many cookies and a large glass of milk might make your tummy feel a little funny — especially when consumed in mere minutes and at 10:30pm.
i think i shall let the others finish the rest.  tomorrow i shall eat my fruits and veggies.