couples celebrate their anniversaries every single year but not many other yearly markers are celebrated on such a regular basis.  and even marriage celebrations you don't make public affairs until you've hit number 25 and 50.  when you've worked somewhere for perhaps 10 or 20 years you might be e acknowledge but even that's not a guarantee.
but then i came along.
i remember dates.  and i make a big deal out of the tiniest things on a regular basis.  it makes life much more grand.
today marked three years of working in my little blue office.  and okay, it wasn't "acknowledged" by the men i work for, but i made sure people were aware of it by tweeting all about it at the beginning of my workday.  it's a big deal to me.  in fact, every "working at the church office" anniversary is a big deal since when i first started i was convinced i would only be there for a year at the most.  it was a temporary job until i figured out where to go next and what to do.  guess life doesn't always turn out the way you planned.  and i'm okay with that.  i'm okay with three years of little blue office living.
some of you don't know what the inside of my little blue office looks like.  that's just sad.  so this is for you.  behold!  my habitat for the greater portion of my last 1,095 days: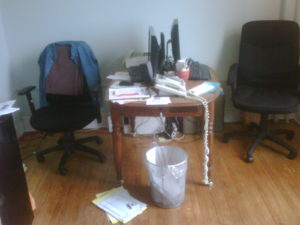 the one of the left — that's my chair.  yup, with the denim shirt on it.  that's me.  and yes, that's an old sinclair kitchen table that holds two computer monitors and two work stations for two girls.  now you know what we're talking about when we say that we "peer" over our monitors at the other (and occasionally kick the other person by accident).
they call this the control station.  i call it the disaster area.  but that's okay.  because to reward me for my hard three years of labor (okay, not really — it's just a grand coincidence) they're renovating my little blue office and turning it into the not-so-little-hip-blue-office!  hopefully my design of a much large desk area will remove all piles from floors.
i like my job.  i like my blue walls.  i like the bulletin board that i don't ever see but is full of special things made specially for me by my seven year old nephew and… seventeen year old should-be sister.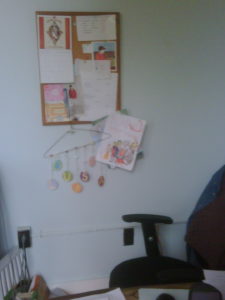 you may ask me when i'm going to leave the church and really start doing something with my life and it may be the running joke that i'll be a church secretary for the next 20 years (although let's get the job title correct — i'm an administrator!) but right now, knowing that today marks three whole years of me giving my energy and time to three great bosses and the best congregation in the whole entire world — well, i'm pretty okay with where i'm at.  i'll give anniversary #3 a thumbs up.