it's wednesday morning at 9am.  the house is quiet, the world white, and i'm still in pajamas and slippers.  as the daddy rummaged through cookie tins last night, only to find them all empty, i laughingly said, "no cookies, dad, but don't worry — i'm taking tomorrow off to bake all day."  he smiled and i knew that inwardly he was quite happy about that.
and so am i.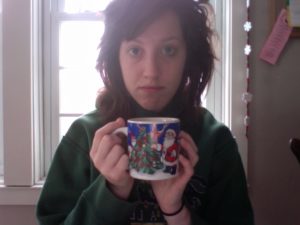 i'm ready for a day with a morning christmas mug, the smell of cookies i've grown up eating baking in the oven, and some time to actually sit and enjoy the little decorations.
this holiday season has been one of the strangest ones so far.  never have i felt so lacking in the customary holiday warm fuzzies and never before have i teared up while singing the same hymns we sing every single year.  i'm not sure why but this christmas, i'm getting it.
getting the humility of God becoming flesh.  getting the difficulty of what mary & joseph were asked to walk through.  and more, getting the years upon years of waiting and longing the poeple of israel went through before the coming of their messiah.  that was their hope and heart's desire.
redemption.  salvation.  healing.  grace.  new life.
these are the things that make me tear up as i sing the declarations in Joy to the World or the wonders of Silent Night.  and these are the things that i'm looking to — just like the people of israel for years upon years upon years.
Jesus, be my hope & heart's desire.