i should be thinking about my busy sunday right now.  if i was being responsible i would be putting together a song list and starting to consider what should be said at the sunday night young adult gathering.  but sometimes, when there's much to be taken care of, instead of being inspired, i find myself on the verge of tears and looking for a place to hide.  i don't want to experience that right now.
so i'm here.  to tell you that i adventured a bit today.
i reminded myself of where i come from as i drove through country roads that aren't traveled often by this girl.
and i wandered through woods in my very nice coat and white gloves.  sometimes this grew-up-in-a-small-town-but-still-not-very-country sort of girl doesn't always think clearly.  but the woods were divine.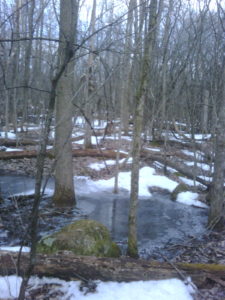 and my adventuring friend is pretty divine as well.
and now i shall go start to work through my list.  or maybe just sleep and let tomorrow unfold as it may.
somehow that sounds like a very good plan.