maybe it's growing weary of this weather.  maybe it's the melancholy music i surround myself with.  maybe it's the trying to ignore the feelings of discontentment.  maybe it's a million things.
but i've been remembering my year away more frequently than ever before recently. 
i close my eyes and i see the lake and the ever-present obnoxious swans that always meandered along the shore. 
i see the tidy houses, all the same, lining the streets. 
i see the mobs of sweaty kids surrounding me after our "concerts."
i see the apple orchards along the country roads that i loved to walk so much.  and the apple store that sold fresh apple juice.  it took four minutes to walk there from school.  and christian told me about it.
you didn't know that, did you.  you didn't know that i wouldn't have gone to germany if it wasn't for christian skoglund.  you didn't know that i would have missed a year of outreaches, five months of spending every weekend with one hundred German teens if it hadn't been for his recommending the school to my parents.
he's the only person i knew outside of my "Bodenseehof" circle that could relate to me, understand my stories, share his own stories.
and that's what we did. 
i visited their italian home, did you know that?  i went and spent three days there and the first evening we ate cherries that he and liz had picked from a tree in their yard.  we sat on their couches and talked of his year and my year at Bodenseehof.
he was so nice.  i brought a friend with me and during the course of our evening i could see her relax as he told stories about getting in trouble, being brought into the principal's office because of the "extra attention" he was giving a girl, and his exerience rooming with nine other boys. 
i've been thinking about all this recently.  i've been thinking about the impact that he has made in my life.  i didn't know him very well, but i owe him a lot — after all, he's the reason i went to Germany. 
the friend who visited with me in italy sent me a few messages after i told her of his death.  and they were wonderful.
…sitting in their nice cool living room eating cherries and reminiscing about Bodenseehof. I am so thankful that I had the opportunity to see their kindness and hospitality and also their love for each other.
…I guess this is one of those times where we cling to the promise that nothing is out of God's hands
…I was just thinking how many people Christian impacted through you alone, introducing you to Bodenseehof. Look how many kids heard the gospel and saw the love of Jesus in action because of you, and you were there because of him.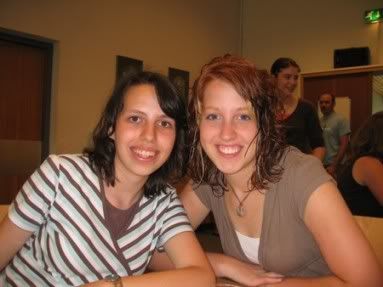 miriam and i.  miriam is one of the many young German kids i spent time with during my time there.