there are some things in life that are just too wonderful.  and i'm so very thankful for them.
i loved to pretend as a young girl.  but who doesn't?  every girl wants to be a princess, wants to be a ballerina, wants to be the orphan annie, wants to be a girl out in the prairie, right?  the hours spent going through our box of dress-up to find different clothes just so i could pretend i was someone that i wanted to be in my young girl dreams… they were lovely.
and what's more lovely?  when i come home from work to see my niece wearing a ballerina dress i wore once upon a time as well.
my beautiful dancer girl.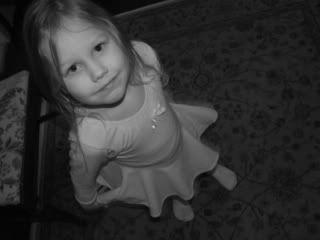 a face that is too loveable.
and cheeks that are too kissable.
these are some of the things i'm thankful for.