i never thought i'd post anything about my personal fashion.  why?  because 1) i've never thought that i have a very unique style, 2) i don't have a very good camera to take pictures (unless outdoors), and 3) i don't actually have a third reason, but aren't you always supposed to have three points?
i'm not sure how to title this.  how to update your 80s dresses?  or how to wear something that people will either love or hate and tell you just what they think?  or how bout': how to make a dress that's technically 5 sizes bigger than what you wear work for you?  okay.  never mind.  i never was very good at coming up with catchy titles.
but here it is:Â  what i did with an 80s dress that i found for free that really is 5 sizes bigger than i am.
how did i make it fit?  lucky for me, belting everything is quite current these days.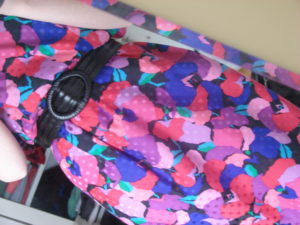 i added my pearls and gray shoes to the mix:
if you wear such things in public (or just at home — you should have seen the faces i received from family members) you'll have people giving you faces like this that say, "yikes! i just had flashbacks to my younger scary years!":
and i'm really not sure how to end this.  so… there you have it — my try at 80s gear in my everyday wear.