this new place of mine is gaining a reputation.  they've called it peaceful, calm, quiet, restful, cozy, warm, inviting, and fun.
there's been a twinkle light tree in the office since this past weekend and it's slowly been decorated with more and more ornaments.  who says you can't make a twinkle light tree even more pretty?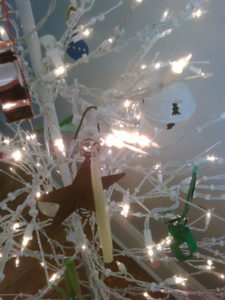 for years i've been collecting all my own christmas knick knacks.  apparently i have a thing for snowmen since that's pretty much everything that was pulled from my boxes this morning.  but the excitement was having a space to put them… finally.  do i sound pathetic yet?  just tell me to get my own place and stop playing house with an office.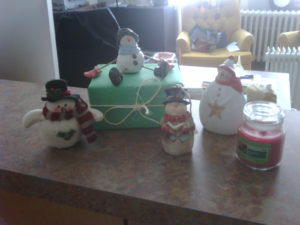 pathetic or not, i'm completely enjoying adding my own touches here and there and making the space me. because i can.  because i'm such a blessed person.  who else gets to plan and decorate their own office?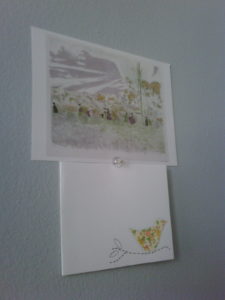 i know.  it's cute.  it's wonderful.  and maybe it lives up to the reputation it has.  perhaps someday you'll also come in like a few have already and comment on the ability to just be for a few minutes in my peaceful grey walled room.  i'll be oh-so happy when that occurs.
today, today i needed some being myself.  i looked at to-dos and piles of unorganized stuff that hasn't been dealt with since all this moving around — but mostly felt the heaviness of what life throws at us ordinary people.  today was the give up day.  i wanted to throw my hands up in despair and give in to the misery of life.
where was the peace in that moment?  the calm?  the relaxing quiet balm that my place is to others?
and that's when i realized that i make that place.  like a boss to a business or a mother to her household — i set the tone in my little grey room.  there's only peace and calm and beauty for others when i've found it from the Giver of those things.
i propped a reminder before me.
sometimes the wonderful environment just happens.  and other days i have to decide to make it a happy place that will be a source of rest and comfort to those coming in.  and some days, you just have to stir up your soul and remind yourself that you've experienced God and you know that He's good.  and that's not a bad thing.
that was just what today was.