two girls are supposed to be studying and i'm here on the laptop trying to not distract them.  two finals are to be done and then we'll go gallivanting for the rest of the day like we have every other day.  yesterday was our adventure day and i discovered more reasons to love this place.
9.  it's beautiful and full of not-too-strenuous outdoor fun.  i am not much of a hiker so we took the very easy trail.
10.  anyone else grow up watching "Adventures of the Wilderness Family"?  i'm convinced that they filmed the series here.  this plane is more proof.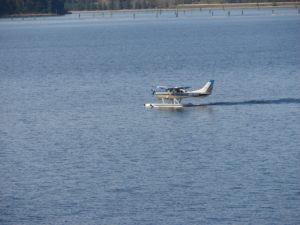 11.  old abandoned buildings beg for you to explore.  so we did.
12.  the one thing i wanted to see and yesterday we saw several.  a real deal ranch!