it's the second day in the first month of this year.  this makes me think that i should be writing something intellectually stimulating about my resolutions for this year, what i've learned from this past year, and what i want to see in this coming season. 
but i'm not.
i will let you know that the Lord decided to have me swallow my pride today when by 9:30am i found myself sitting in a car realizing that by that point i had already managed to:
a.)Â sleep through my alarm (causing much stress as i tried to ready myself for my day in a few minutes)
b.) fall in the middle of a parking lot in front of three out-of-towners from the ridiculous ice and snow that currently surrounds us (causing a very sore hip for the rest of the day and… well, some pride that might have been embarrassed)
c.)Â having to admit that i don't know my social security number (causing much surprise from those i was with and many questions as to how i've traveled abroad for a year, worked, filled out paperwork, opened my own bank account — all while having to look up the silly little number the government knows me by each time)
d.) not being able to get a car to go in reverse (causing more humiliation while i stood in the cold to watch a boy back up the said vehicle — sinclair girls are supposed to be as good as boys behind the wheel)
e.) being horrible in awkward situations (causing my friend to not be able to open a bank account because i didn't suggest all the things i could have suggested because i get tongue-tied)
f.) and knowing i had to tell my Mumsie that i had messed up a situation and she would need to patch it up because she's just that amazing (causing me to once again deal with my wounded pride since i don't always know what i'm doing)
yes.  that was 9:30am.  we don't really need to continue with the day.  you could be here for a very, very long time.
– – –
since some of you aren't as ridiculousy into facebook as i am, i stole a few pictures to post of our new years bash that happens here every year.  seriously, it was a marvelous evening.
two beautiful ladies.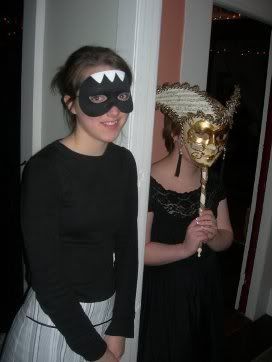 the masquerade was so much fun!
dj natro
CRAZY PEOPLE!!!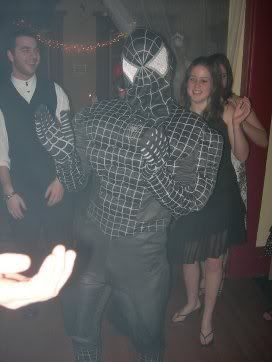 even Spiderman showed up.  definitely the most creative outift.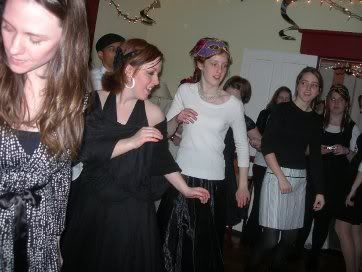 nothin' like a good electric slide.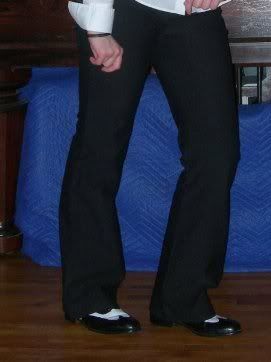 Spidey might have come with the most creative outfit, but i had the sickest outift with these sweet shoes (no, this isn't pride — i didn't actually put my outfit together so i can say it).
: )