today is monday.  thursday is thanksgiving.  this means that today started the holiday week.
AND I'VE NEVER BEEN SO THANKFUL FOR A HOLIDAY TO ARRIVE.
no really, i'm serious.  i think that perhaps tears almost came to my eyes on saturday when i remembered what this week was and what it would mean.  a few days off, an aunt & uncle & baby cousins coming to visit, and some moments to do some of my favorite things.
i shall not leave my house unless i absolutely must.  there will be an afternoon of baking these.  i'll find time for all the crafty sorts of things i've come to love so much.  games will be played and movies watched.  and it shall be wonderful. and although i spent all day in my temporary office today and shall do the same tomorrow, i welcomed the beginning of this wonderful week by spending my evening with colorful felt.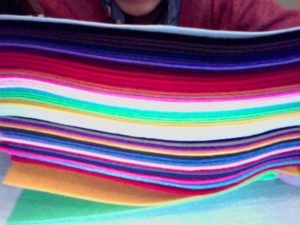 i can't tell you what i did with it since it's for a christmas present.
as my dear coworker and friend said goodbye and wished me a happy thanksgiving, a little gift bag was handed to me as she smiled and said, "sometimes i just like to give random gifts."  inside was the darlingest mug ever and a cross stitch to keep me company while she's away for the rest of the week.
i am just a wee bit excited about all this.