my kitchen.
what newlywed starts out in such a luxurious space? i'm particularly fond of my baking corner.
sprinkles & color.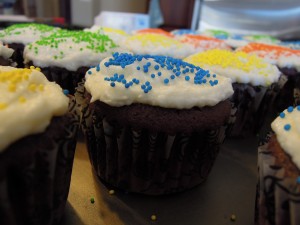 the husband asked if i could make cupcakes for the youth meeting tonight. they're nothing fancy but they'll taste good and i had color to put on top! i do love color!
old.
i've read a few books lately set in the late 1800s/early 1900s. and i've been following the growing-in-popularity downton abbey. and sometimes i almost forget that i'm not part of those stories and i don't live in that time period. my trips to retrieve our mail from this postal box do not help.
walks.
they aren't daily but they're often. i like my owls.
lipstick.
when i actually take the time to put a bit of mascara on — it's there! just look at the top lashes. — i reward myself by letting lipstick accompany. yes, i'm that pathetic. in order for me to actually take the 20 seconds to darken my lashes i have to promise myself something that i love more.
texts.
i know, you're jealous right now because the very best of the best picked me.
food.
and that is one large calzone. now we can slice it and run. because friday nights are those kind of nights.